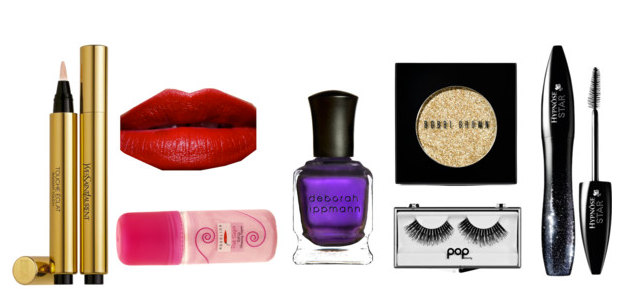 With tomorrow's festivities ringing in the New Year, I thought I would do this last minute post on New Year's makeup for you all. Enjoy!
1. Long Wear Concealer: Long lasting concealer is essential for a long night out. This concealer by YSL is a cult favorite and something I would recommend.
2. Red Lips: You might need to adjust the color depending on your dress, but in general you should be rocking a bold lip color on this exciting evening. If needed, add a clear gloss, but try to choose a lipstick that already does that.
3. Roll on Perfume: Generally roll on perfume is more convenient, long lasting, and easier to re-apply. Pink Sugar is a delectable scent with long lasting qualities.
4. Bold Nail-Polish: Being a nail polish junkie myself, I believe nail polish completes a look. Again, the color you decide on depends on your dress, but I think if I were to wear a silver dress, purple nails would be my choice.
5. Gold Eyeshadow: Instead of wearing your usual neutral everyday eyeshadow, move outside of your comfort zone with shimmery eyeshadow. Gold is a no-brainer for New Year's, and if you wanted to, you could also jazz up your eye-look with winged eyeliner.
6. False Eyelashes: False eyelashes are completely optional, but for sure something to consider for occasions like this. You can wear full fledged ones like the ones above from Pop beauty, or subtle half-lashes.
7. All in One Mascara: To finish off your New Year's makeup look, wear a doll lash like mascara, like Lancome Hypnôse Doll Lashes. To see what this mascara can do for your eyelashes, look to celebrities like Kylie Jenner.
Just made a twitter! (<--Click) Please follow me for updates on the blog!